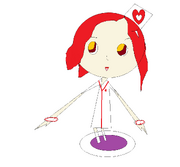 Personality
Edit
It's hard to tell just from her looks, but she's very hostile and often fights with YoNang, but usually, it's something silly like who gets to play with the new rubber band bracelet kit Bridgette got for her birthday, but only rarely is it something important, like whose idea was it to join in with the toy soldiers and Pillow's boss like in the movie. A rude, snooty young woman who crushes on Dr Red, and thus has a very bad rivalry with YoNang, who also loves Dr Red. She often acts fancy, even though it's fake.
Appearence
Edit
First appeared in the movie, along with Dr Red, her boyfriend.
Relationships
Edit
Does LaTale monster dolls count?
Dr Red.
Relationships
Edit
Dr Red.
YoNang.
YoNang once said "Wow, so hostile." but she didn't react.