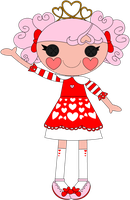 Personality
Edit
Queenie loves inviting her friends over for a royal game of croquet, but she also likes to play Solitaire. Her highness is usually a sweetheart, but sometimes she loses her temper as well as her head!
Relationships
Edit
She has a pet flamingo.
Her best friends are Furry Grrs-a-Lot and Sweetie Candy Ribbon.