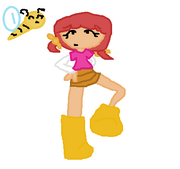 Personality
Edit
Teddy is a teddy bear... literally! She's often described as being warm and fuzzy and she loves to be hugged. When the winter seasons come, Teddy can often be found sleeping until springtime. Teddy also loves to eat honey...but she often eats too much and it makes her tummy hurt!
Relationships
Edit
She has a pet honey bee.
Ad blocker interference detected!
Wikia is a free-to-use site that makes money from advertising. We have a modified experience for viewers using ad blockers

Wikia is not accessible if you've made further modifications. Remove the custom ad blocker rule(s) and the page will load as expected.