Personality
Edit
Tippy is the most talented ballerina in all of Lalaloopsy Land. She's a girly girl, who loves being on stage... even though sometimes she falls off the stage. She is exceedingly graceful and loves putting on recitals for all her friends.
She was a ballerina doll brought over from England. She is very posh and sophisticated and clumsy and ditzy at times.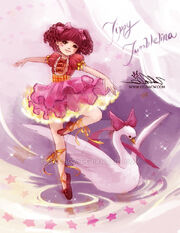 Relationships
Edit
She likes her sister Twisty
She is in the Best Friends Group along with Jewel, Pix E, Suzette, Goldie, Ivory, Confetti, Lady, Cinder, Scraps, Cloud E, Mango, Tuffet, Snowy, Toffee and Rosebud
she hates all of 'em
She also loves fashion becauses she makes dresses for Jewel and Pix E
Ad blocker interference detected!
Wikia is a free-to-use site that makes money from advertising. We have a modified experience for viewers using ad blockers

Wikia is not accessible if you've made further modifications. Remove the custom ad blocker rule(s) and the page will load as expected.