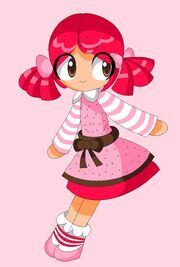 Personality
Edit
Toffee is Lalaloopsy Land's chocolate enthusiast. She is a total sweetheart who loves to give hugs and she gives them often! She can melt the heart of just about anybody, even the toughest or unfriendliest of people. She doesn't mind how you are, Toffee always loves to hug! A perfect little cuddlebug, Toffee loves candy, ruffles, and sending nice notes. But upon receiving them she blushes very easily.
Appearances
Edit
She has major roles in Romance Drama and Sweet Talking.
Relationships
Edit
Her best friend is Velvet B. Mine. She is also a member of the Best Friends Group.
Ad blocker interference detected!
Wikia is a free-to-use site that makes money from advertising. We have a modified experience for viewers using ad blockers

Wikia is not accessible if you've made further modifications. Remove the custom ad blocker rule(s) and the page will load as expected.